The dakini songs of the Aro gTér Lineage are dramatic and powerful, and are also melodically beautiful. To practice them evokes joy.

Yogic song is a method in itself of finding presence of awareness, and is also employed as a support for meditation.
The voice can be soothing or screeching, harsh or harmonious, booming or bashful – and the vajra melodies employ all these qualities.
All meditation sessions at Aro Ling Cardiff are interspersed with yogic song and mantra. Song sheets are provided. It is left to the individual to decide whether they wish to join in and sing, or simply listen to the experienced practitioners' mastery of the melodies. Either way, yogic song enriches and enlivens meditation practice.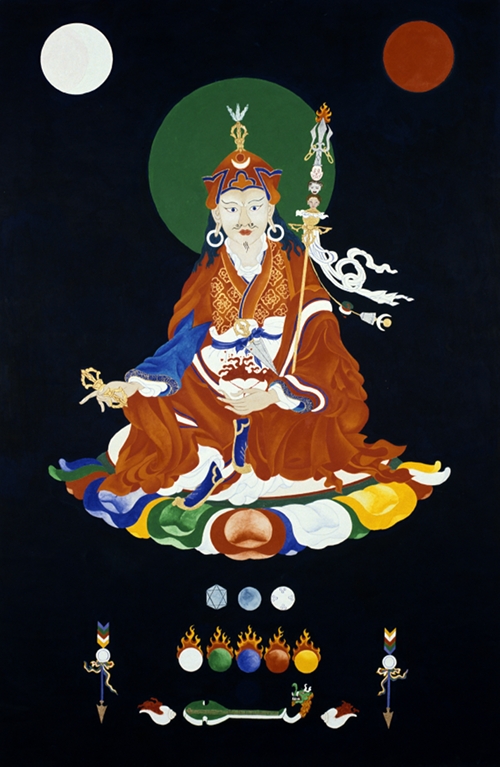 Padmasambhava

–

Guru Rinpoche
Seven-line song; the seven thunderbolt phrases; the inspirational song of Padmasambhava
Hung: Ögyen yul-gyi nub-chang tsam:
Hung – From beginningless self-luminous Wisdom-Mind

Hung – In the land of Ögyen
Pe-ma ké-sar dong-po la:
Within the self-perfected secret kyil-khor of great bliss
Within the heart of a lotus
Ya-tsen chö-gi ngö-drüp nyé:
Non-dual awareness is free of inhibition in manifesting activities
You are endowed with marvellous attainments
Pe-ma jung-né shé-su drag:
I am effortlessly and spontaneously liberated

You are renowned as the Lotus-born
Khor-du khan-dro mang-pö khor:
The phenomenal universe radiates as the fringe of luminous experience

You are surrounded by a vast sumptuous retinue of sky-dancers
Kyé-kyi jé-su dag-drub kyi:
I cultivate the experience of spacious passion in which divisionless Wisdom-Mind is realised
I will follow in your footsteps with commitment to practice
Chin-gyi lob-chir shè-su sol:
I enter into primordial awareness and recognise my own mind as none other than Padmasambhava

I sing this wish-path with burning devotion, that I may receive your blessing
Guru Pema Siddhi Hung:
The actual knowledge of the meaning of Padmasambhava is the realisation which disinhibits all siddhis
Padmasambhava give me siddhis